Parlor Dwelling
Slow down you move too fast!!
During the cooler months, one of the most pleasant things we do at Spring Rose Cottage is to sit in the parlor in the evenings. Theo first used the term "Parlor Dweller" to describe people like me who thrive on both the quiet and reserve of the space.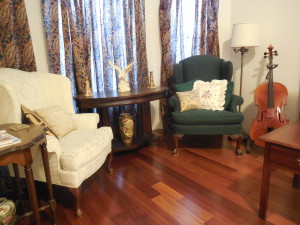 He subsequently painted "The Parlor Dweller" acrylic on canvas, a study in burnt umber. It is me in one of my favorite wing chairs.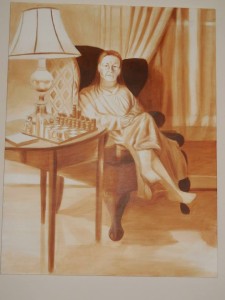 Wayne defines a parlor as a living room with no television—and he is quite correct. Sometimes "parlor dwelling" is a solitary affair where one can read, do needlework, write a book chapter or blog posts. Sometimes it can be a group activity like playing a board game, cards, name that tune, or playing music.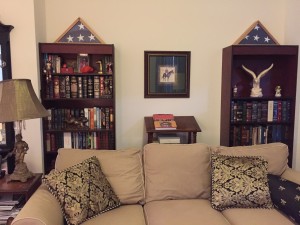 One of our favorite endeavors is to take turns reading a book, short story or poems. I enjoy reading out loud and I love to hear someone else read.
I find the parlor is a most agreeable place to dwell.