It's that quirky, not quite octagon shaped room off of the master bedroom. It isn't painted blue, but it is known as the Blue and White Room, for one obvious reason.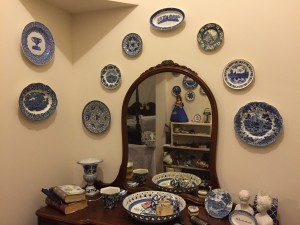 I love to collect china and there is nothing more lovely than Blue and White China! This room is my space. No one else in the house ever uses it. This space has all of the things I love–china, porcelain dolls, lace curtains, books, pillows…even blue and white china depicting scenes of England!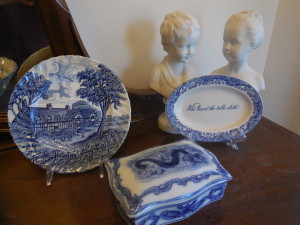 The tower space also has a painting of me that has a blue background that looks really nice with the china on the walls.  The oil on canvas painting is by Theo and every time I see it, it makes me smile. Not because I think I look wonderful (I have never looked good in photographs)…it is because he puts so much heart into all of his art.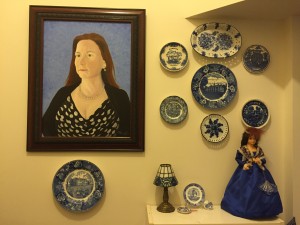 There is a small upholstered bench, where you can curl up with a throw and read a book or magazine, relax, do some writing, or meditate. The little side table next to the bench is actually an antique sewing table that holds all of my sewing thread, needles, and other miscellaneous sewing items. I sometimes embroider in this spot because the lighting is so good.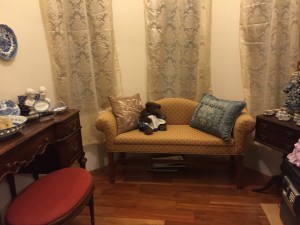 The actual function of this little space is that of a dressing room it holds my antique hand-carved walnut vanity. The light in this space is brilliant because of the really tall windows, it is a wonderful space to style hair or put on makeup.
I love to use china in ways that are unusual.  Here is a pierced bowl. It is shallow, so it makes a nice tray for the vanity and it is fun because it is unexpected.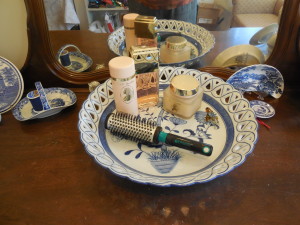 For such a tiny room, roughly 8 ft x 8 ft, with the angled walls and 12 foot ceiling, It really packs a punch!! This is one of the spaces in the house that makes it feel like a cottage!