I call this an up-cycle project. Sometimes, you buy something that works okay, but could be better. This is one of those circumstances. I found a really cute Patriotic Pennant made out of burlap with embroidered letters that spelled out "AMERICA".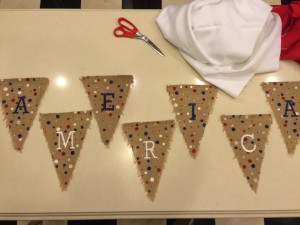 It was a little too small for the space I intended to hang it, and a little too rustic for my home. It had an unhemmed edge so the burlap had kind of a shaggy look to it.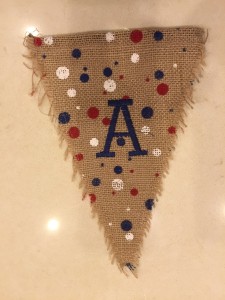 I don't have a working sewing machine at this moment. So I had to think of a way to fabricate the border without sewing. I decided to add a 2 inch border all the way around each pennant that would take care of the raw edge that I dislike. I also liked the idea of using a variety of patriotic prints to add some color and interest. So I purchased some fabric and double-sided fusible product (stitch witchery) to use in place of sewing.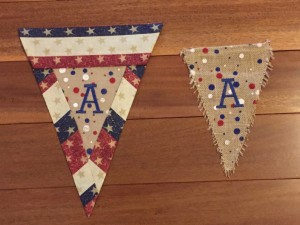 This worked really well under the circumstances. All you need is the pennant pieces, fabric, fusible, and an iron. I spent a lot of time lining up the patterns. And I think the final product looks pretty nice.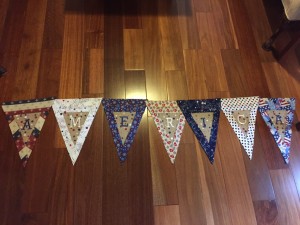 You can see in this view the variety of patriotic fabrics used. Each one is different. But you really do have to see it hanging to get the full impact.