From the outside, it just looks like any other normal door. But, turns out it is a "Magic Closet"—an elevator!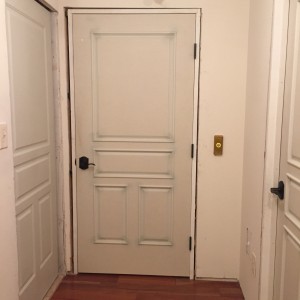 Safety First!! There are several features that prevent the elevator from moving unless the metal grate is closed and the outer door is closed.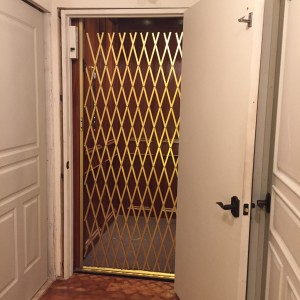 The popular trend in home design is to move laundry facilities to the bedroom levels of a home because of having to carry laundry up and down stairs. The elevator made it possible to keep the laundry in the basement and use the prime spaces upstairs for other things (extra bathroom). We use laundry carts to move laundry to the basement. No heavy lifting or carry up and down stairs and no laundry noise up on the bedroom level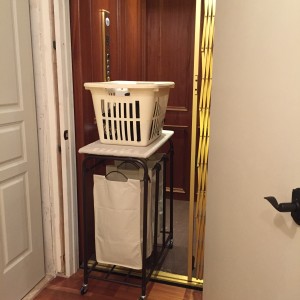 The elevator runs the full four levels of the home–including a heated and air-conditioned area of the attic that I store my decorations for holidays, items for tablescaping and some of my china.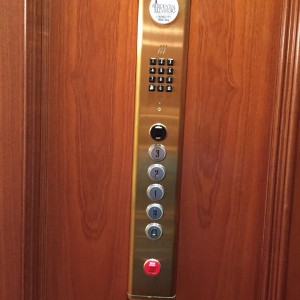 Wayne has a utility cart that he uses to carry tools which makes them easily moved from floor to floor wherever they are needed.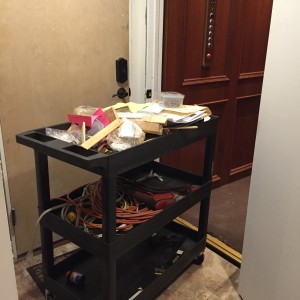 I use a utility cart to bring decorations to and from the attic, move picture hanging stuff from floor to floor, and bring groceries upstairs.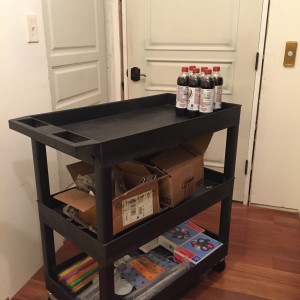 This is our forever home. So when we were laying out the floor plan, we really tried to think of ways to make the house accessible. We widened hallways, made sure a wheel chair could get through doorways, and  even made a wheel chair accessible shower. Our goal is to be able to stay in this home forever and the elevator helps us to achieve that goal.