Thanksgiving is the most traveled holiday in the United States. The chances are pretty good that you will travel or someone else will travel to visit you. Sometimes that may be a day trip, but there will come a time when you have to provide a place to sleep for a guest.
This was the first guest room that we used at Spring Rose Cottage. This Red Bedroom is decorated with Red/pink/cranberry English Transferware.  Since we didn't have a designated "guest room" at that time, the least used bedroom in the house was used to serve that purpose. Our primary concerns were how to make the most of the space and solutions that we used to help our guest have a pleasant stay.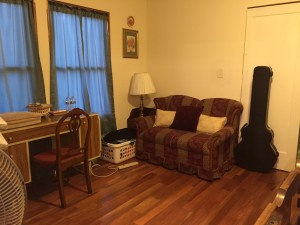 The most important thing of course is a bed.  The next  would be the bed linens, blanket or quilt (depending on season and indoor temperatures), and a pillow are pretty much the basics. The only thing I will say about that is if you can provide a variety of blankets and pillows that is a plus.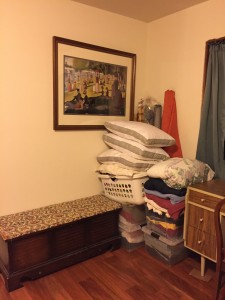 A vintage Lane hope chest serves as a place to lay out a suit case. But in many guest rooms space is tight so try to provide some space either for suitcase or hanging space in the closet.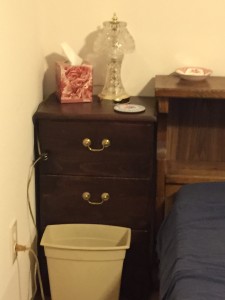 It is very helpful to have a bedside table with a lamp, tissues, a waste basket nearby and a coaster for a cup. Ours is a small room and really only has room for one small bedside table and we put it to good use.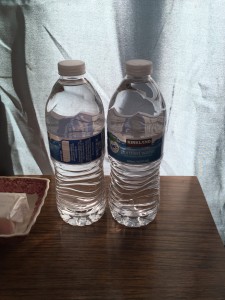 This bedroom does not have an ensuite. So I have provided water bottles so the guest doesn't have to leave the bedroom to find water.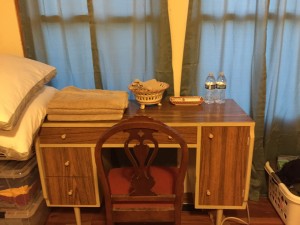 I like to have a desk and chair available that someone can sit and write a letter or journal or use a laptop or tablet to do work. I keep the top drawer clean of personal items except some envelopes, pens, pencils, stamps and stationary. There is a power strip next to the desk for charging phones, laptops, or other devices.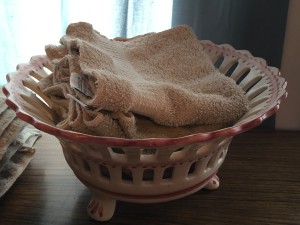 Especially in cases of a bedroom without an attached bathroom, it is helpful to provide bath towels, washcloths, and various sundries in the room. I like to use red English transfer ware to hold the washcloths and sundries. The red English transfer ware on the desk ties the color theme together with the artwork and plates on the wall.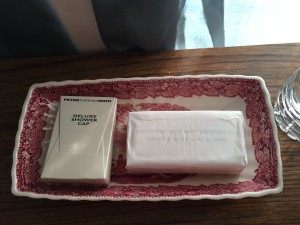 Another really nice thing to have is a comfy chair or settee with a reading lamp next to it—and maybe a few books or magazines.  The important thing is to make your guests feel as comfortable and welcome as you can manage. We had this antique settee and it fit perfectly in this room and the color went beautifully with the Cranberry color English Transferware.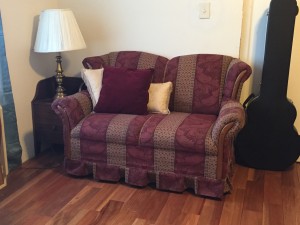 Do your preparation ahead of time. When your guests arrive, you will be truly thankful for the opportunity to spend time together.