At Spring Rose Cottage we love Fall colors and decorating, especially when it comes to Halloween. This is the first year we have done any decorations on the house since we moved back in. Because of work commitments this year, the decorating fell to the kids.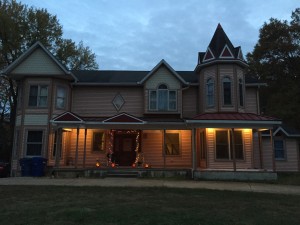 First they strung color lights on the porch posts. The left side post is covered in purple lights and the right side is covered in Candy Corn painted lights.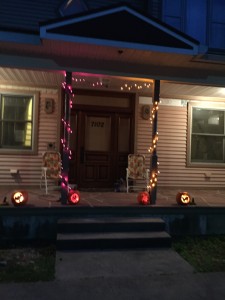 Then they placed the pumpkins that they had carved on the porch. The two pumpkins closest to the posts were connected into the post lights, so there is no need for a bunch of cords draped across the porch.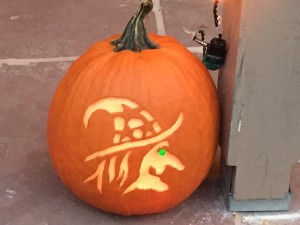 This Witch pumpkin wasn't cut all the way through, but the design was scraped and carved to show when lit by a big bundle of string lights that is placed inside.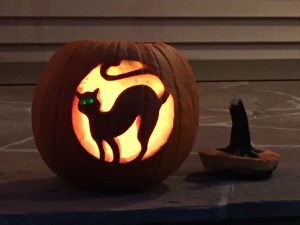 This Cat pumpkin is a great example of a design that is cut all the way through the pumpkin rind. It is lit by candle placed inside the pumpkin.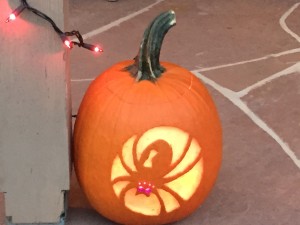 This Spider pumpkin is scraped (not cut out) and the spider has multiple red eyes.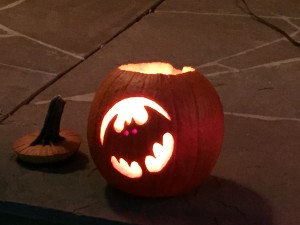 This Bat pumpkin is cut through and is candle lit.  The lid started to burn, so they removed the lid to allow the heat to escape. The kids enjoyed making the pumpkin designs, decorating, and giving out candy to Trick-or-Treaters. They are already planning what to do for next year.