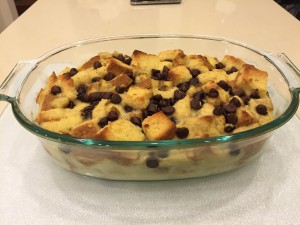 This little adventure all started, because we had some over ripe bananas in the house. So we started brainstorming about how to use them (besides making smoothies–which we also did).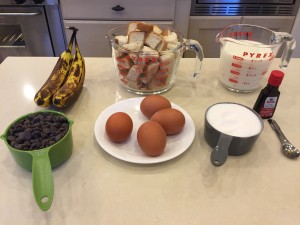 Ingredients
4 eggs
2 cups of milk
1 cup of sugar
1 tablespoon of vanilla extract
4 cups cubed French Bread (we used stale oatmeal bread)
1 cup semisweet chocolate chips
2 bananas sliced (we quartered them length wise and then cubed them)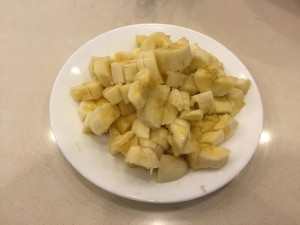 Directions
Preheat oven to 350 degree F. Grease a 9 x 5 loaf pan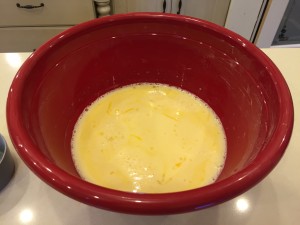 In a large mixing bowl, mix eggs, milk, sugar, and vanilla until smooth. Stir in the bread, bananas and chocolate chips. Let stand for 5 minutes so the bread can soak up the liquid mixture.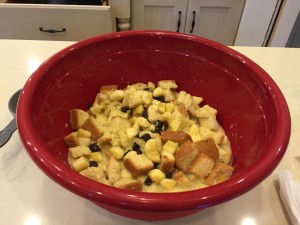 Pour into prepared loaf pan.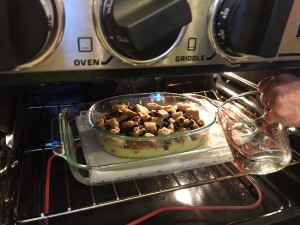 Prepare a water bath for the loaf pan to sit in. Line a roasting pan with a damp kitchen towel. Place bread pan on the towel inside the roasting pan. Place roasting pan on oven rack. Fill roasting pan with water to reach halfway up the sides of the loaf pan. Bake in preheated oven for 1 hour or until a knife inserted into the center comes out clean.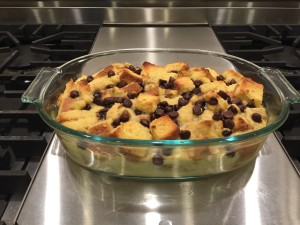 Challenge yourself to use left over fruits and vegetables. You will save money while expressing your creativity.
Enjoy!