At the end of a long day at a professional conference in downtown DC, I expected to either go to a restaurant close by for dinner or do room service. Then a co-worker says, "I have to run an errand, do you want to come along and we can get dinner on the way back".  So we did!
We ended up at the National Harbor at Rosa Mexicana—really excellent food and killer views of the waterfront. I loved watching the water taxi going between the National Harbor and Old Town Alexandria.
As were seated at a table along the window facing the water, I knew I had to take a photograph.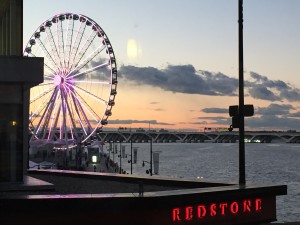 Then as we ate, the sun slowly slipped out of view and the lights were all around the waterfront, I took another photograph. For a quiet Sunday evening, the area still seemed very vibrant.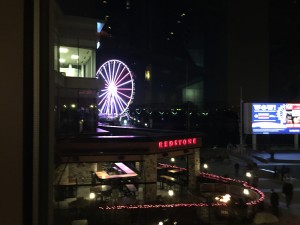 Before we leave, I take a final close-up picture of The Capital Wheel.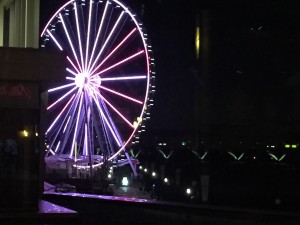 Good Friends, Good Food. Good Views. Life is Good!!