I have never been a carb lover, so reducing carbs while cooking, feels very natural. I eat rice, pastas, noodles, and potatoes in very small amounts. I do love most vegetables and really love cauliflower as a substitution for rice. Sometimes when I make this dish, I use half rice and half cauliflower. I feel very comfortable changing it up each time.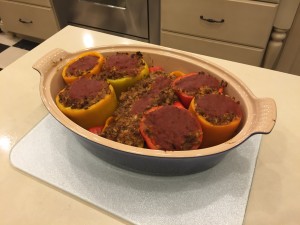 serves 6:  6 large Sweet Bell Peppers, 2 each color yellow, orange, & red, washed and dried
Stuffing:
1 lb. lean ground beef
1 medium onion, chopped
½ cup chopped orange/red mini sweet peppers
½ cup chopped celery
1 cup cauliflower, finely chopped or riced
or
1 cup cooked white or brown rice (omit if using cauliflower)
Garlic Powder to taste
1 tablespoon dried Tuscan Italian seasoning
Fresh ground black pepper
12 oz of Marinara Sauce for topping
Cut the tops off of the 6 large Bell Peppers. clean out the seeds. Set peppers aside.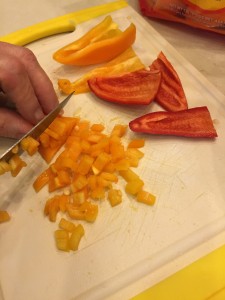 Dice the onion, mini sweet peppers, and celery and set aside.  Using a deep skillet or pot, brown your ground beef then add the chopped onion and peppers, and cook for a few minutes.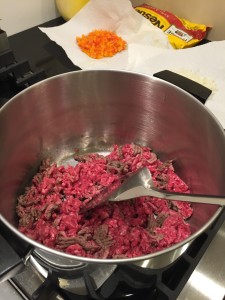 Add the cooked rice and/or riced Cauliflower, marinara sauce, rub the Tuscan Italian seasoning into the mixture, season with salt and pepper.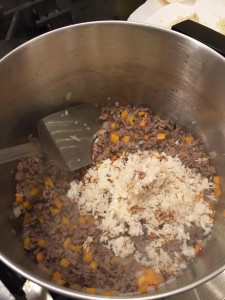 Drain if necessary. Mix well. Stuff peppers with this mixture.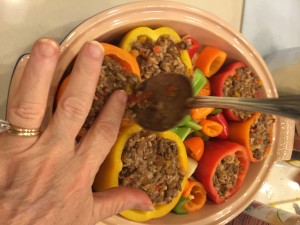 Place peppers in a Crock Pot/slow cooker or deep baking dish.
Top each with a couple tablespoons of ketchup or marinara sauce.
Slow Cooker Method: Cover slow cooker and cook peppers on LOW for 6 hours or HIGH for 3. Peppers are done when they're very soft and tender and the meat mixture is very hot all the way through. Serve.
Oven Method: 350 degrees for 1 hour.