When it comes to slow cooking or low heat cooking in the oven, you just can't beat the Dutch Oven.  If you are a fan of Country French cooking, you should consider getting one.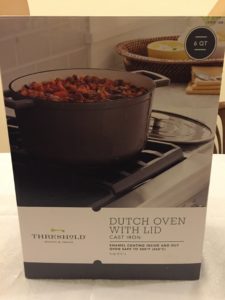 I have made Beef Bourguignon in various types of cookware–covered casserole dish in the oven, crock pot, and stew pot on the range top–but nothing compares to using a Dutch Oven which allows braising and simmering of the bacon, beef, onions, carrots, etc. on top the range and then moved into the oven for the slow cooking process.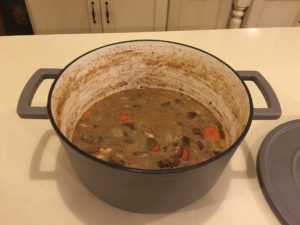 There are a few things to consider before buying and using a Dutch Oven.  Dutch Ovens are heavy. You have to be confident that once it is full of hot food, that you will be able to move it about as is needed.
All exposed bits of iron on your Dutch Oven need to be oiled to keep it from rusting. I use a light vegetable oil for this task. If your Dutch Oven is enamel coated iron, the enamel coating can chip. If it chips the iron beneath can rust.  If your Dutch Oven is only partly enamel coated, same thing goes—all exposed bits of iron need to be oiled to keep from rusting.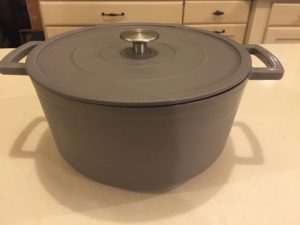 You have to give it time to transition from hot to cold and cold to hot. Fast changes in temperature can cause cracking or chipping of the enamel glaze.
It is because of the very thick, heavy walls of the pot that make it so good for slow cooking at a very consistent temperature. It is the kind of cooking that requires you to slow yourself down. The cooking cannot be rushed.
Once you have the Dutch Oven in the oven, you can use that cooking time–sometimes hours–to prepare the rest of the meal. Or you could have a nice cup of tea and relax.
A Dutch Oven isn't as user friendly as a crock pot—and it is heavy; but, you won't be disappointed with the results if you follow the recipes and treat your Dutch Oven with the care it requires.